Week 30: More Techniques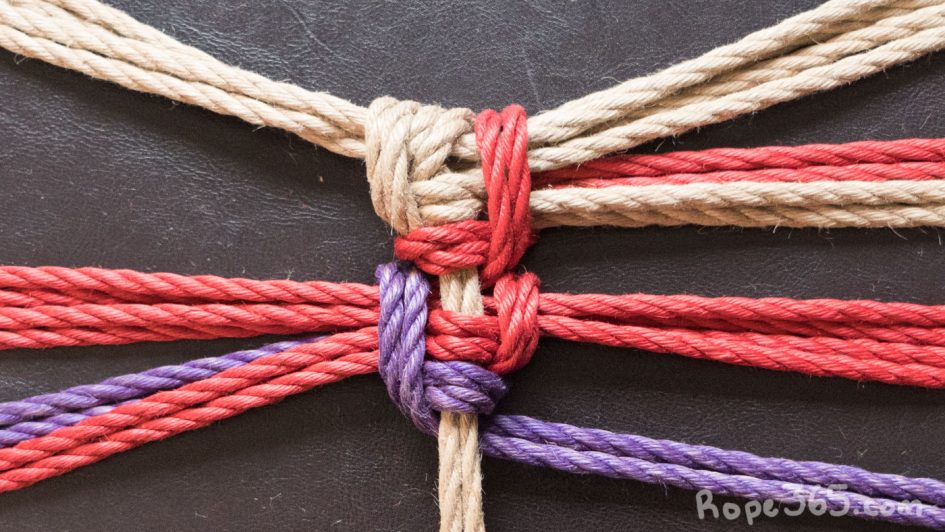 Different techniques comes in many variations. To continue expanding our toolbox, we can look at different ways to use some of the basic techniques we commonly use and challenge them by looking into alternate ways to do things.
The goal of this week is to explore different variations of techniques and discover new ways to tie.
Day 204: More Frictions – In day 2 we looked at several frictions: loop around, reverse tension, half hitches, and X frictions. These are all based on diagonal passages. We can expand our exploration of this technique by looking at frictions of different shapes, L (aka Osaka friction), flags, etc.
Day 205: More Weavings – In day 16 we looked into using weaving for the chest. Weaving can be used in many different way in bondage. It can be structural or aesthetic. Try using weaving for different purpose, cover the skin, make a hip harness structure, create a decorative pattern, etc.
Day 206: Braiding – ropes going over each other in alternance creates a braid. It is familiar to use braid to tie hair, but there are lots of fun possibilities for rope structure as well. In particular, braiding a cuff will create a structure that is both stable and comfortable; and will be faster to tie than a weaving. These techniques are popular with suspension cuffs, and they are just as useful when working on the floor.

Day 207: More Sinnets and Chains – In day 47 and 188 we looked at the chain sinnet as a way to coil rope. The sinnet is a whole family of rope technique with many variants. We can also use a sinnet in ties to make a leash or to create a ticker piece of rope to better distribute the pressure.

Day 208: Slip Structure – In crochet, there are many uses of the principle of the chain and slip stitch to create structure. We can use those techniques to create rope patterns. These are often very fast to tie and untie because there is no need to pull the whole rope.

Day 209: Super Middle – The bight is the middle of the rope, and the super middle is the new middle created from folding the rope a second time. Using the super middle as a starting point will allow to create different kind of ties that are fast, but requires more ambidextry as you have to manipulate two ropes at the same time. For example, you can place the super middle on the back of the neck and use the two ends to create a quick strappado. Or you can place it in the middle of the back and create different kind of structure with a twist in front.

Day 210: Finishing ties – There are several techniques to finish a tie, use up the remaining rope, and have a clean finish. Sword wrapping, wraps, inline cuffs, half hitched pattern, sinnet leash, bundle to name a few. To increase our mastery of these technique, we can measure how much rope is actually used by each of them so we can pick the right one when we want to finish a tie swiftly without having dangling rope ends.
Gallery
Coming soon!
Inspirations and Resources
Coming soon!
Credit:
Or return to Fall for more options.