Week 52: Rope Games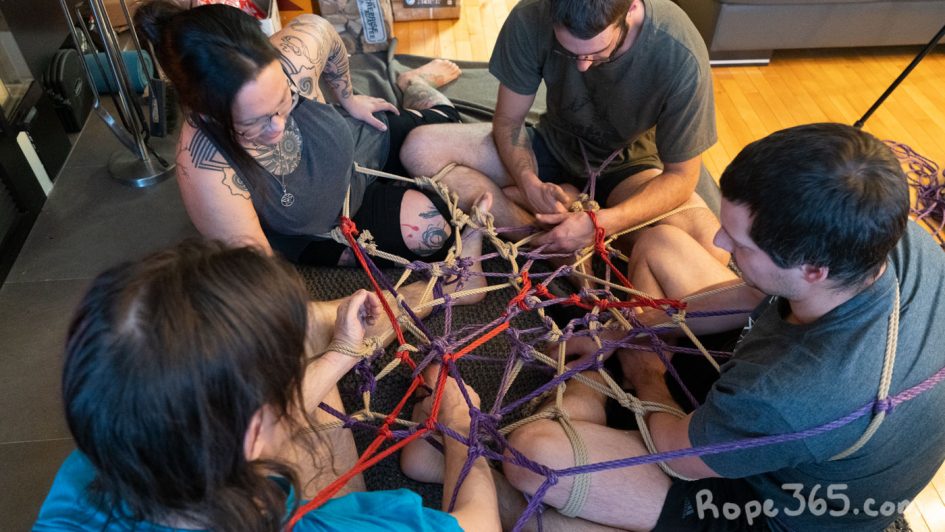 Let's end the year with a party! Gather friends for activities that requires a bunch of people to play. You can plan different challenges for your guests, or assemble teams for a large scale competition. Will there be a prize at the end? When more people are involved, it is important to make sure all of them are aware of the risks involved, and confortable with the people they will be tying with. Create a space for all to be able to state their boundaries and adjust when necessary.
The goal of this week is to challenge our skills and discover new tricks by tying with a group of friends.
Day 358: Race – The participants are tied and will need to reach the end of the track as fast as possible Some classic options are the hog tie or the crab tie, you can also explore with mermaid tie in a pool, twin tripod race, or wheelbarrow race. Who will be the first one to cross the finish line?
Day 359: Escape Artist – For the one tying, make it inescapable, for the one tied, get out as fast as possible. Give the participant a time/rope limit to create the tie. When playing as teams, people from opposite teams should tie together. Who will be the first one to escape?
Day 360: Tug of War –

Two people tied with a rope between each other, a line in the middle. One needs to pull the other over the line. You can try different challenges, a more regular harness, a restrictive tie, or something more intense like a crotch rope or an insertable hook. Who will be the strongest?

Day 361: Tolerance – Pick an uncomfortable tie and measure how much time each participant can hold. This can be kneeling/sitting/lying on something uncomfortable like bamboo, legos or a nail bed, or holding a position like a wall sit or standing on one leg. Who will last the longest?
Day 362: Telephone Game – First person get tied, then they need to replicate the tie on a second person, who will replicate the tie on a third person, repeat for until all participant have tied. They do not get to see the tie until they get to experience it. Variant: duos can replicate the tie of another duo, which get copied by another who hasn't seen the first one. What will the final tie looks like?
Day 363: Untying Challenge – The participants have a limited amount time/rope to create a tie. Then they switch partners, the first one who manage to free their new partner wins! Will you be able to set them free?
Day 364: Rigger Chess – Each turn the person tying changes, you can add or remove one rope by turn. Each person tying can have a goal, ideally different from the other participants (ex: one whats to torture, the other wants to be nice). The person being tied wins!
Day 365: The Web – Everyone can tie, or be tied, or both. Each rope much connect two people, each rope should be handed out to another person to complete tying with it, every time two rope crosses, make a crossing hitch. Everybody wins!
Next: Sharing is Caring