Week 28: More Single Column Ties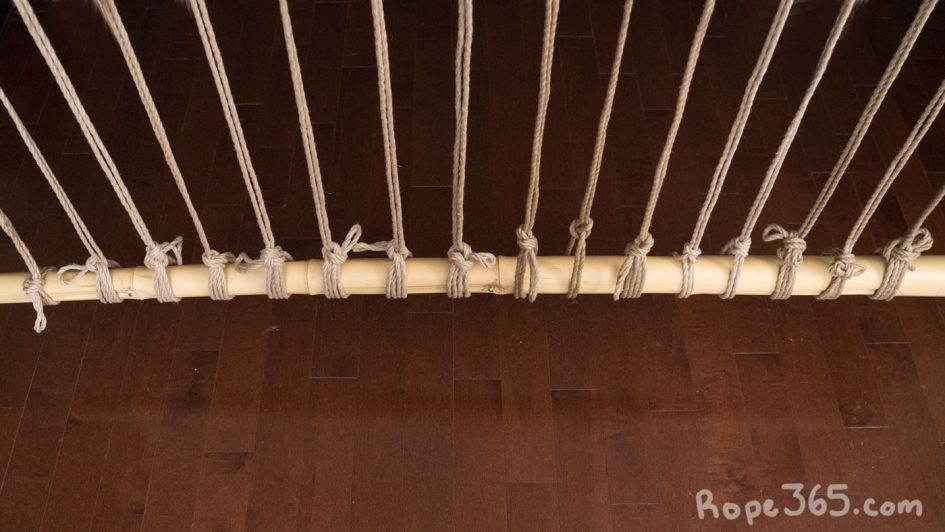 The single column tie, the starting point of most ties, is the subject of much passion. Many different knots can be used to create that tie, that will yield results with different characteristics. If at first it is wise to pick one and master it, it can become interesting down the road to challenge our choices and maybe keep a selected few in our toolbox to adapt to different situation.
The goal of this week is to try different single column ties and compare them and identify in which context a technique would be more adapted than another.
Day 190: Square and Granny

aka yuki knot, boola boola – This single column tie is probably the most classic because of its simplicity and speed but also come with the problem that it can collapse and turn into a slip knot. It consist of two half knots on top of each other, and depending on the direction, will yield two different knots. The square knot (aka reef knot, 本結び honmusubi) is more likely to collapse and always remain easy to untie. The granny knot (aka 縦結び tatemusubi) is slightly more secure but also more difficult to untie. Some will add a twist or an additional half knot to make it more secure. Look at day 18 for a refresher of the difference between the two knots.
Resources

Three half knots tutorial by Yukinaga Max

Day 191: Cow Hitch

aka Lark's head – This single column tie is made of a cow hitch followed by one or two half hitches. It is very solid and will not collapse. Unlike most single column tie, it doesn't have a bight, which may be a good thing if we don't want to have a piece of rope hanging for a cleaner look, but prevent us from untying from the bight or using the bight as a lever. This tie is a bit more slow as it require two full pull-through of the rope. Look at day 13 for a refresher of the cow hitch topology
Resources

Day 192: Reversed French Bowline

aka Wykd fast bowline – This single column tie is based on the techniques for different types of bowlines and yield a very fast single column tie that is more solid than the square or granny knot and remain, though a bit more tricky to tie. It can still capsize while under heavy loads or if using very slippery rope. It remains easy to untie, which makes it an excellent tie to start a box tie for exemple.
Resources

Day 193: Somerville Variants

In day 1 we looked a the Somerville bowline as our first tie. It was the benefit of never collapsing but can get difficult to untie under load. Different variations emerged to make improvements to that tie.
East Somerville bowline – aka Strugglers knot – This knot is slightly easier to tie than the usual Somerville and is easier to get even tension across the wrap but is slightly less compact and stable.
Burlington bowline – This single column tie begins with a half knot(first step of the square or granny knot) and and ends with a Somerville bowline knot. This makes the tie a bit easier to handles but adds an extra step that makes it slower and bulkier.
Handling variants – From tutorials to tutorials, people seems to have found many different ways to tie the Somerville bowline. If the topology of the knot remains the same, the finger movement will affect tension and speed and it is interesting to compare them.

Day 194: More Bowlines

The bowlines are an entire family of knots with a lot of different approaches. If the bowlines from the previous days are the most commonly used in rope bondage, many more ties exist for a similar purpose. It is interesting to tap into the vast knowledge of nautical knots and rescue knots to discover new techniques.
Resources

Day 195: Sliding Cuffs

There are a few ties that you can tie separately then slide of the wrists and cinch down. Usually a slip knot would tighten down and cinch but these cuff rely on the rope friction to stay in place. This allows for speed both to tie and untie, but it is not a structural tie so the type usage is limited. It is quite popular to use these ties for hands and ankles in bondage for sex, and works best with slippery ropes like nylon or MFP.
Resources

Day 196: Quick Release

Most single column tie knots can be modified to create a quick release tie to be able to easily untie at any time. This is usually done not pulling the bight completely through and compacting the knot with the bight folded in it, but there are also other techniques. This will make the knot impossible to lock, less stable and prevent the bight from being used as a lever, but can be a savior in case of emergency.
Resources
More resources
Next: More Columns