Week 22: Restrained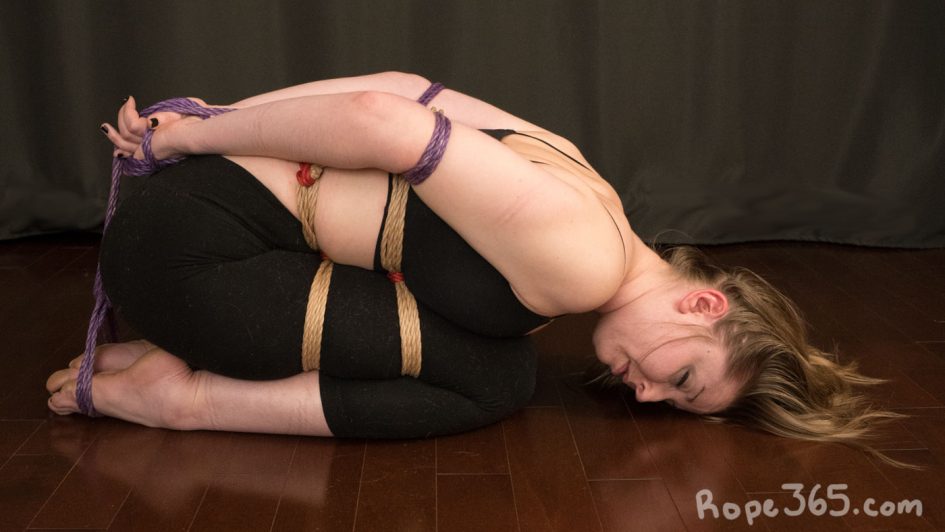 Tying the lower and upper body together allows to create interesting restrictive positions. We can play with bending the hips at different angles to create different levels of restriction.
Day 134: Seiza – Kneeling, keeping the feet together under the butt. Tie the arms together in the back for a perfect position.
Day 135: Hero Pose – Kneeling with the feet on each sides. This position may be difficult depending on flexibility. Sit on a block or a cushion to make it easier.
Day 136: Bending mermaid – Force the hips, knees and ankles to bend by modifying the mermaid tie and pulling the waist and feet in.
Day 137: Bending hips – Sit in a bending forward position by tying the arms and the knees together
Day 138: Squat position – Time for a little work out with a low squat position. Tying the arms to the knees separately and the ankles together creates this classic workout.
Day 139: Child Pose – Kneeling and bending forward allows to tie the knees to the chest.
Day 140: Shrimp Tie – Aka Ebi Tie – Tie the legs in crossed leg position, then catch on a upper body harness to bring the torso forward as low as possible. This is a classic torture position as it makes breathing difficult.
Next: Asymmetric Poses